This is the taste of Austria
culinary history and iconic dishes
From the Tyrolean mountain huts to the rustic Viennese inn – very special culinary secrets are kept everywhere. They have been passed on from generation to generation and they form the basis for the culinary wealth of the country. Get to know 5 typical dishes, which should not be missed on your gourmet journey through Austria.
The most important recommendation for visitors to Austria is as follows: Do not skip a meal! Regardless of the duration of your stay: It will be almost impossible to savour the enormous diversity of the country. But that should not stop you from at least trying.
After all, those who really want to get to know Austria, must let this country melt on their tongues.
Tip for a pleasant flight:
Set aside some time for a walk after your extensive original Austrian meal. Vienna Airport invites you to stroll through its 
numerous shops and souvenir stores 
– so that waiting times pass by quickly!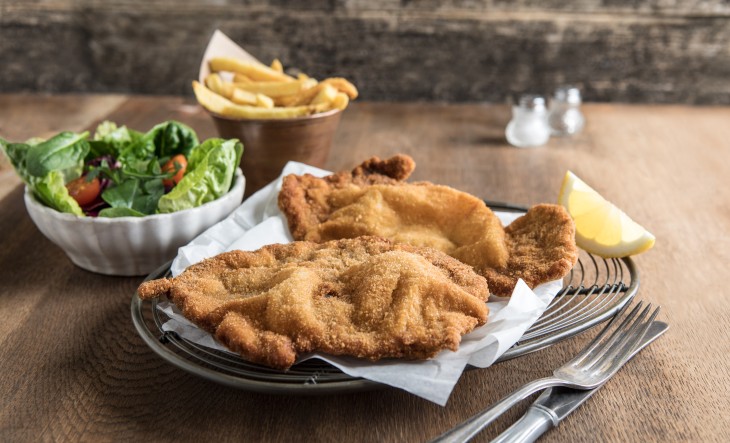 Wiener Schnitzel "smell and hear"
The most important requirements for this classic dish are as follows: You must be able to see, hear and smell it, so that it tastes even better. You see the golden breadcrumbs, hear the crackling of the crispy breadcrumb coating and smell the fine buttery taste which rises directly from the plate into your nose. The most popular Schnitzel accompaniments include parsley potatoes and cucumber or potato salad. You can never get enough of Schnitzels, which is why there's nothing wrong with having one at the beginning, during and end of your trip to Austria. After all, you are on holiday and this begins and ends at Vienna Airport with numerous "Schnitzel stations", such as restaurants Zugvogel, Kulinariat, Johann's Biereck, Johann Strauss, Demel and Caffè Ritazza.
 
Tafelspitz - the imperial taste 
Austria has a historic beef culture, which is attributable to the culinary traditions of the old k.u.k.* monarchy. This is still recognisable today by the fact that beef is added to numerous "delicacies", for which they not only have their own names, but there are also numerous centuries-old recipes. One of the most famous Austrian dishes is the Tafelspitz, which Emperor Francis Joseph I chose as one of his favourite dishes. During preparation, a fine piece of beef is boiled in broth for hours, so that it then gently melts on the happy guest's tongue. It is often served directly in a beef soup tureen and accompanied by potato rostis, root vegetables, horseradish and apple sauce and chive sauce. This is exactly how it is served at Restaurant Zugvogel at Vienna Airport.
 
* abbreviation for "kaiserlich und königlich" (Imperial and Royal)
Schinkenfleckerl: Cream on the inside, crispy on the outside
You can gather the most important ingredients in this Austrian classic from its name. "Geschnittener Schinken" (sliced ham) and "Fleckerl" (cooked, flat pasta) are sautéed in a pan with onions and various spices. Eggs, sour cream and breadcrumbs are also added in the baked version. The 'Schinkenfleckerl' then become creamy on the inside and crispy on top in the oven. Take your last chance to try the original "Old Viennese Schinkenfleckerl" and enjoy it at confectionery Demel at Vienna Airport.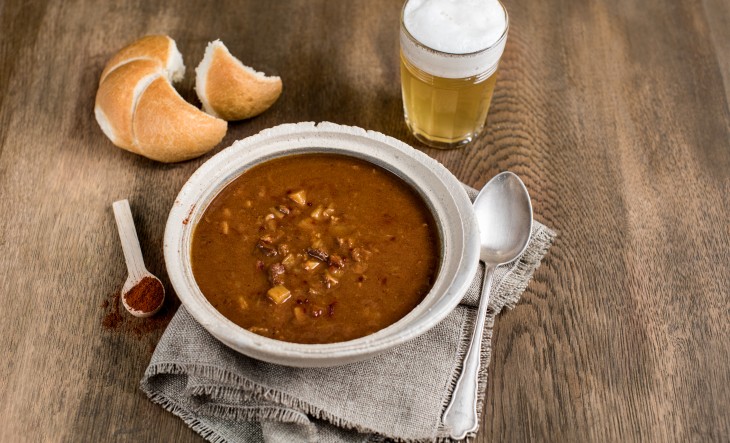 Goulash from the good Neighbourhood
You have to stick with the facts. Goulash with its delicate pieces of beef, the intense aromatic sauce, which results from the hour-long cooking of onions with paprika powder, has its roots elsewhere – specifically in the neighbouring country of Hungary. However, Austria not only shares a tightly woven common history with Hungary, it also shares numerous dishes. Thus, Austrian menus without the famous Goulash are hardly imaginable and it is also available in delicious variations at Vienna Airport: as Goulash soup (confectionery Demel, Sky Wine Lounge, Kulinariat, Johann Strauss, Air Café) or as Old Viennese Goulash with dumplings or Spätzle (egg noodles) ( Johann's Biereck, Caffè Ritazza).