A GUIDE THROUGH THE VIENNESE COFFEE CULTURE
Wiener Melange TO Einfacher Mokka
It is more than just a place to meet, chat or give your legs a rest after a long sightseeing tour. The Viennese coffee house has been an intangible UNESCO heritage site since 2011. "It is a place where you consume time and space, but only the coffee is on the bill", UNESCO's justification for its special selection.
small coffee dictionary for beginners
When the legendary Viennese coffee house waiter, "Herr Ober", comes around the corner, be prepared when he asks: "Was darf es heute für Sie sein?" (What's it to be?) Because in Austria: Not all coffee is the same, but it is a question of good taste. Read a short dictionary of the most important Austrian coffee variations here.

 
A tip for high-flyers:
Pack a piece of Viennese coffee house culture in your hand luggage. You will find freshly roasted Meinl coffee and many more delicious souvenirs to take away from the Heinemann Duty Free Shops. Furthermore, do not forget this highly popular travel companion: You can pack a traditional Viennese Sachertorte from the iconic confectionery Demel or Heinemann in the practical wooden box safely in your hand luggage.
 
Wiener Melange
If there was a national drink in Austria, then it would probably be the 'Wiener Melange'. It is easy to explain what is inside the cup: half coffee, half milk. The milk then gets an "extra twist", whereby it is frothed and often served in a glass in contrast to a simple Melange (without frothed milk).

If an Austrian person was a drink, he/she would certainly be a Melange.
Einfacher Mokka
One drink with so many names... The 'Einfache Mokka' is better known as Espresso in other countries. Just don't be confused, because you will also be served an Espresso or Mokka when ordering a 'Kleinen Schwarzen'. Those who need a stronger caffeine kick simply order the large version, which can be found under the names 'Doppelter' or 'Großer Mokka' and 'Großer Schwarzer' on Austrian coffee house menus. You can also order an 'Einfacher Mokka' at Café Franzl at Vienna Airport. Or take the whole beans with you. The Empress Sisi Espresso is available in airtight packaging as a gift or for extended coffee enjoyment at home.
Kleiner Brauner
The cheerful play of colours continues. The name 'Kleine Braune' strongly suggests that it is related to the 'Kleinen Schwarzen'. You could also remember this memory hook right away, because a 'Einfacher Mokka' is actually hiding behind the 'Kleinen Braunen', which is served with a pitcher of milk or whipped cream. This way, you can decide for yourself whether you prefer your coffee light or dark.
Verlängerter
Are you in Austria for the first time and not quite familiar with the coffee house traditions yet? Then the 'Verlängerte' (extended one) could be a hot tip for you, because this cup contains a strong Espresso, which is diluted or "extended" with the same amount of hot water. Beyond the borders of Austria, the 'Verlängerte' is also known as an Americano and it is certainly a good entry point for coffee house novices.
Einspänner
This coffee variation is more luxurious in all respects. If you ask for an 'Einspänner', you will get a double Mokka topped with a large portion of whipped cream. Do you have room for something sweet? In Austria, coffee is enjoyed with something sweet, such as a fine Sachertorte, a Topfenstrudel (curd cheese strudel) with warm custard or a handmade Apple Strudel. Vienna Airport continues this tradition. After all, you will not only find all of the popular Viennese pick-me-ups from Mokka to Melange here. The finest Austrian bakery products are also served at the iconic confectionery Demel, Daily Roast and Café Wien.
Fiaker
It is thanks to the Viennese Fiaker (horse and carriage) drivers that this coffee house classic made its way onto Austrian drinks menus. When you order a 'Fiaker', you will get an 'Einspänner' served in a glass at a gallop, or rather a 'Großen Mokka' with sugar and a shot of kirsch, plum brandy or rum hiding under a nice scoop of whipped cream.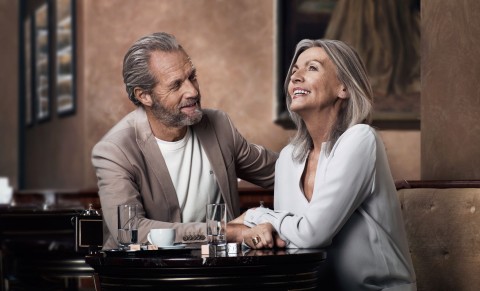 Did you miss these coffee house classics on your trip through Austria? Then quickly take your last chance at Vienna Airport and extend your coffee house enjoyment as a farewell treat. They will happily serve you a 'Verlängerter' at Air Café,  Aïda, Café Wien, Café Franzl, Daily Roast, Demel and Johann Strauss.