I love Austria
Last call for souvenirs
Have you experienced Austria in all its diversity or just in passing? Either way: Keep a vivid memory of this trip and also think of your loved ones at home - with the best souvenirs from Vienna Airport.
A holiday full of impressions - the boulevards of Vienna city centre, the mountain ranges of the Austrian alps, the smell of a freshly roasted Melange and the taste of a traditional Sachertorte (chocolate torte). Or did you just have time for a short trip this time? Regardless of whether you are short on time or you have plenty of it - use this time sensibly and travel light. After all, you can relax and purchase souvenirs and gifts for family and friends at Vienna Airport - with this shopping list of "The Best of Austria Souvenirs".
Great tip for smart travellers
Purchase souvenirs and gifts for your loved ones at home – all from the comfort of your hotel room. With their practical pre-order service, the Heinemann Duty Free Shops provide the option to order products online in advance. The purchases will then be available for collection in-store on time for your departure.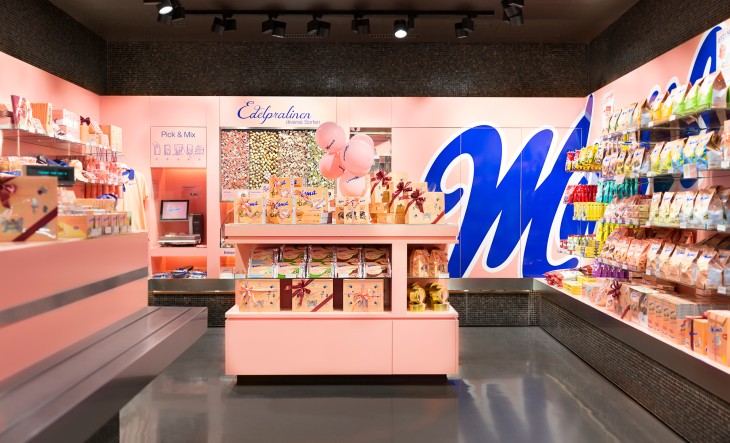 SMALL AND ICONIC: MANNER WAFERS
Unbelievable, but true: Two packs of Manner Wafers are eaten worldwide every second. This equates to more than 172,800 packs every day and more than 63 million pieces every year! But what makes the crispy wafers, layered with fine chocolate cream, so irresistible? It is the delicate flavour and the piece of history that you get with every bite. After all, Josef Manner I actually developed the recipe and basic shape of the Manner Original Neapolitan Wafers in 1898, which has remained absolutely unchanged since then. The Austrian 'Original' is also available at Vienna Airport, directly in the Manner shop.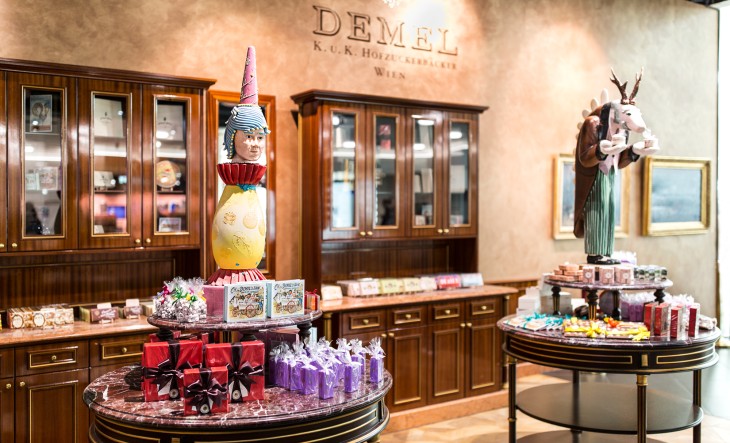 THE SACHERTORTE TRAVELS THE WORLD
This torte, which has now become one of the most popular gifts from Austria, originated around 180 years ago out necessity for apprentice baker Franz Sacher, who had to represent his master for an order from the imperial court and thereby invented the first Sachertorte. Years later, his son Eduard completed the recipe of the famous Sachertorte during his apprenticeship at the Imperial court confectionery Demel. He gave the torte its characteristic shape, as it is known today and enjoyed around the world. The Sachertorte – the delicious chocolate torte with a thin layer of apricot jam under a chocolate glaze – will effortlessly survive any long distance flight in the handy wooden box. Visit iconic confectionery Demel at Vienna Airport and enjoy a piece there or take a whole torte with you as a sweet reminder.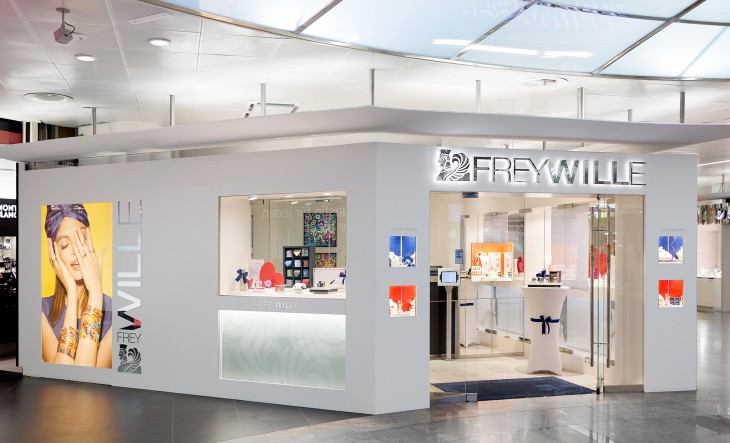 GOLDEN ART: GUSTAV KLIMT JEWELLERY BY FREYWILLE
Gustav Klimt and the Viennese jewellery label FreyWille are united in fire. With its homage, the long-standing Austrian company FreyWille dedicates a limited edition to one of the most famous Austrian painters and most important representatives of Art Nouveau. In this respect, the jewellery designers were inspired by one of his most famous works - the Palais Stoclet mosaic in Brussels. The special edition of necklaces, rings, bracelets and cufflinks, which FreyWille created from gold and fire enamel in a complex process, also adorns the shop windows of the FreyWille shop at Vienna Airport and is a particularly elegant last-minute gift for high-flyers.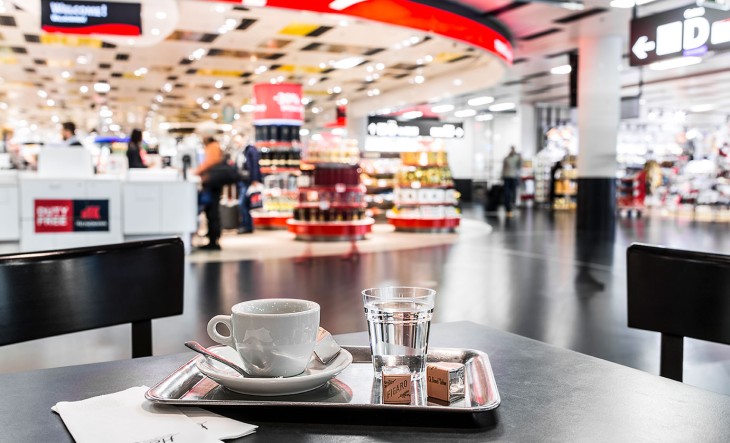 A SIP OF VIENNA: SISI TEA AND MEINL COffee
Bring back the memories of Viennese culture, sip by sip – with a cup of tea or freshly roasted coffee from Austria. "Empress Sisi's favourite tea" from the Austrian tea house Demmers is available in all Heinemann Duty Free shops at Vienna Airport and can be served in in proper style in a Sisi mug with Heindl chocolate. Or take the flavour of Austria with you and brew a cup of Wiener Melange or a Kleinen Mokka at home with delicious beans from the Heinemann Duty Free shops.

Can't remember the difference between Mokka and Melange? Then refresh your coffee house knowledge with the most important Viennese coffee vocabulary.
 
REAL TYROL: SWAROVSKI CRYSTALS
The reputation of this Tyrolean icon reaches far beyond the peaks of the alps. This is not only because one of the most-visited sights in Austria is located in the heart of Tyrol: the Swarovski Crystal Worlds. The glittering jewellery that adorns stars and luxury lovers around the world also comes from the factories of the Austrian family-owned company. Thus, earrings, necklaces and rings made with sparkling crystals are an extremely exquisite and authentic Austrian souvenir, directly available in the Swarovski shops at Vienna Airport.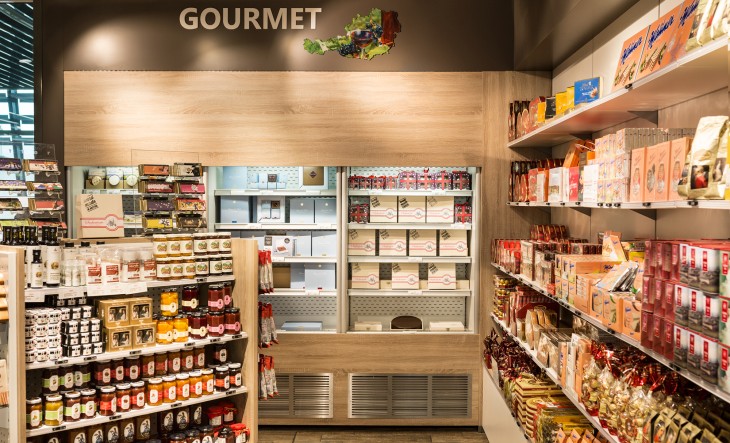 Tradition with bacon and schnapps
The rustic side of Austria with bacon and schnapps as they are served in every mountain hut in the alps. Pack delicious Tyrolean bacon and exquisite schnapps in your hand luggage. You will find these and many more Austrian originals at Flavors of Austria and Senses of Austria, from beef sausages to Riedl glassware, as last-minute souvenirs directly at Vienna Airport.