GATES F
DINE AND SHOP
Dine on your way to your departure gate in a delicious restaurant and shop to your heart's content in boutiques, duty-free shops or souvenir shops at Vienna Airport. You will find these restaurants and shops at Gate F.
 
PACK YOUR TRAVEL PROVISIONS
Take your snacks and drinks on board with you. After the security check, all the cafés, restaurants and snack bars at Vienna Airport are more than happy to give you the snacks of your choice in a 
take-away
 bag.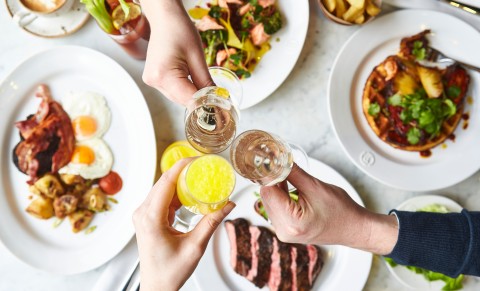 Cafes & Restaurants
Celebrity chef Jamie Oliver provides culinary delights on the way to your departure gate. Stop at Jamie's Italian and enjoy first-rate Mediterranean cuisine with a modern twist. Creative dishes are available for vegetarians and meat lovers. Tip: Your children's eyes will brighten at this family restaurant as they look at the menu and the aircraft taking off.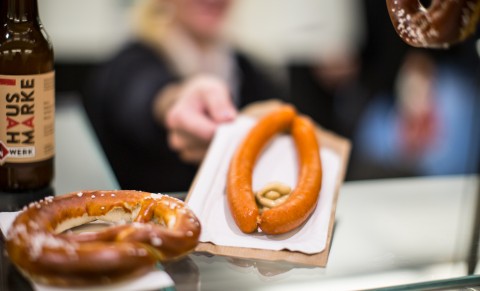 Snacks & Fast Food
Order delicious snacks at Jamie Oliver's Bar, or grab delicious salads, wraps or sandwiches as take-away next door at Jamie's Deli. You will also find iconic snack stalls such as the Brezelkönig and Leberkas-Pepi on the way to your gate. Beer fans will love Beer & Snacks and the Bierbar-Oida!. Café Franzl serves wonderful Austrian snacks and pastries.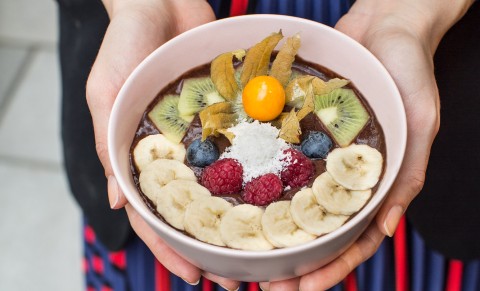 Light & Healthy
Refuel with a healthy dose of vitamins before your departure. Stop by the Juice Factory, where passengers are treated with baskets full of fresh fruit and vegetables, original drinks, delicious cocktails and healthy fruit bowls. Or visit Dean & David and treat yourself to hearty filled flatbreads or exotic salads as a perfect mood-setter for your holiday.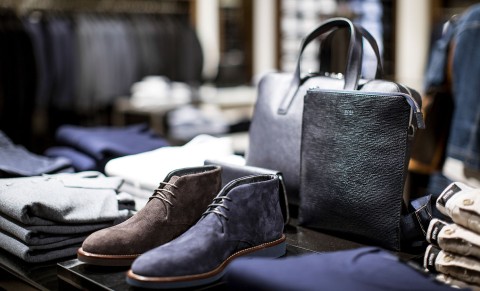 Fashion & Jewellery
Enjoy luxury on the way to your gate! Looking for a fine shirt for your next business meeting? Let the experts at Hugo Boss advise you. And if your bag is too small after shopping, just pick up a new one from Longchamp.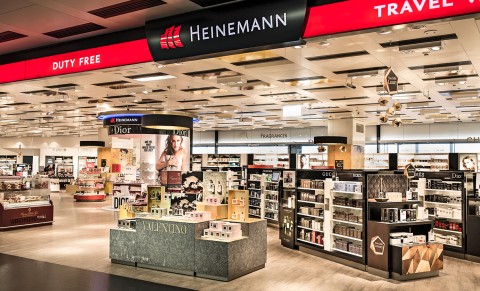 Beauty & Care
Heinemann Duty Free shops have first-class make-up, protective sunscreen and popular perfumes, as well as a wide range of products, special offers and top brands. We recommend a stopover at BonAge for high-flyers. Ladies and gentlemen can treat themselves there with high-quality, organic-biological body-care products.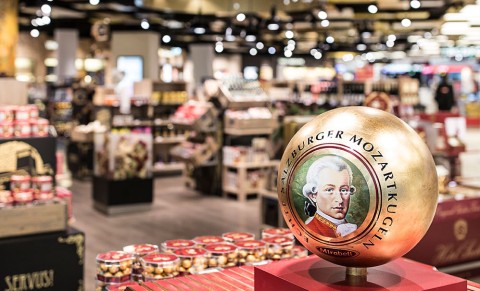 Souvenirs & Gifts
You can find the right souvenirs before your flight home at Vienna Airport. Pick up an original Viennese Sachertorte in a practical wooden box, Manner biscuits or Mozartkugel at the Heinemann Duty Free shops. Or visit Senses of Austria and buy typical Austrian products: from a small bottle of Jägermeister schnapps to Gustav Klimt chocolates.