News
Vienna Airport: Traffic development in July 2017: Flughafen Wien Group handled 3.3 million passengers (+6.9%) in July 2017, accumulated passenger growth of 8.8% in the period January to July 2017
|

IR-Traffic results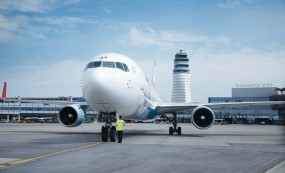 Vienna Airport: Traffic development in July 2017:
Flughafen Wien Group handled 3.3 million passengers (+6.9%) in July 2017, accumulated passenger growth of 8.8% in the period January to July 2017
In July 2017, the Flughafen Wien Group consisting of Vienna Airport and the strategic foreign investments in Malta Airport and Kosice Airport handled a total of 3.3 million passengers, comprising an increase of 6.9% from July 2016. The accumulated passenger volume for the Flughafen Wien Group rose 8.8% to 17.3 million passengers in the period January to June 2017. Vienna Airport also developed very well, reporting a 6.4% increase in passenger volume to 13,765,971 travellers in the months of January to July 2017.
Vienna Airport in July 2017: 4.5% rise in passenger traffic
Vienna Airport handled 2,542,158 passengers in July 2017, representing an increase of 4.5% from July 2016. The number of local passengers was up 4.6%, and the volume of transfer passengers rose by 4.5%. The number of flight movements climbed 0.9% year-on-year, and good growth in cargo volume was reported, showing a 3.4% increase from the prior-year level.  
The number of passengers flying from Vienna Airport to Western European was up by 2.9% in July 2017, whereas passenger traffic to Eastern European destinations showed an increase of 10.6%. Passenger volume to the Far East climbed 2.4% in July 2017, compared to a 2.2% drop in travellers to the Middle East. Passenger growth to North America was 5.7%, and passenger development to African destinations was also positive, showing a rise of 31.3%.   
Malta Airport also reported a strong increase of 15.5% in the number of passengers it handled in July 2017. Similarly, passenger volume at Kosice Airport also rose considerably, increasing by 19.2% compared to July 2016.
Results in detail - Traffic development in July 2017:
 

July 2017

Change in %

January-July 2017

Change in %

Vienna Airport (VIE)

Passengers

2,542,158

+4.5

13,765,971

+6.4

Local passengers

1,786,006

+4.6

10,123,279

+6.4

Transfer passengers

746,120

+4.5

3,580,752

+6.4

Flight movements (arrivals and departues)

21,137

+0.9

128,558

-0.9

Cargo in tonnes (air cargo and trucking)

24,235

+3.4

161,514

-0.1

Malta Airport (MLA, fully consolidated)

Passengers

675,111

+15.5

3,314,823

+19.3

Local passengers

671,568

+15.9

3,295,101

+19.4

Transfer passengers

3,010

+234.4

13,784

+229.6

Flight movements (arrivals and departures)

4,562

+13.6

23,957

+14.8

Cargo in tonnes (air cargo and trucking)

1,161

+2.6

8,369

+5.5

Flughafen Kosice (KSC, consolidated at equity)

Passengers

79,411

+19.2

265,635

+13.3

Local passengers

78,861

+19.4

258,218

+14.3

Transfer passengers

-

-

-

-

Flight movements (arrivals and departures)

782

+17.2

3,526

+12.4

Cargo in tonnes (air cargo and trucking)

6

-33.0

28

-50.2

Vienna Airport and strategic investments (VIE, MLA, KSC)

Passengers

3,296,680

+6.9

17,346,429

+8.8

Local passengers

2,536,435

+7.8

13,676,598

+9.4

Transfer passengers

749,130

+4.8

3,594,536

+6.7

Flight movements (arrivals and departures)

26,481

+3.3

156,041

+1.5

Cargo in tonnes (air cargo and trucking)

25,402

+3.3

169,912

+0.2
Note: Total number of passengers includes local, transfer and transit passengers.  Retroactive adjustment of comparative values for 2016 and transit figures in Kosice
Contact:
Investor Relations
Judit Helenyi
Tel.: (+43-1-) 7007-23126
E-mail: j.helenyi@viennaairport.com
Website:
www.viennaairport.com