News
Vienna Airport: Traffic development in July 2015: 6.7% increase in passenger volume
|

IR-Traffic results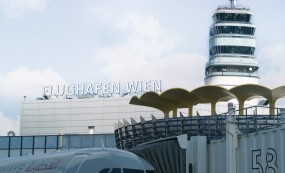 Vienna Airport:
Traffic development in July 2015: 6.7% increase in passenger volume
The number of passengers handled by Vienna Airport in July 2015 was up 6.7% compared to July 2014 to 2,363,785. A total of 88,652 passengers were handled by Vienna Airport on July 31, 2015, a record single-day passenger volume in the airport's history. In July 2015, the number of local passengers was up 7.3% from the previous year, whereas the total volume of transfer passengers also increased, rising by 5.5% compared to July 2014. The number of flight movements (starts and landings) was down 0.6%, and the development of the maximum take-off weight (MTOW) was clearly positive, rising by 5.0%. Air cargo declined by 1.8% in July 2015 compared to the prior-year level. Cumulative passenger volume in the months January to July 2015 was up 0.5% from the previous year.  
The number of passengers flying to Western Europe and Eastern Europe in July 2015 rose by 7.3% and 3.1% respectively. Passenger traffic to the Middle East was up sharply by 42.5%, compared to an increase of 8.3% for Far Eastern destinations. Passenger growth to North America climbed by 6.0%. In July 2015 the number of passengers flying to Africa dropped by 10.9% from the previous year.
Good development of strategic investments in Malta and Kosice
The foreign strategic investments of the Flughafen Wien Group developed well. Malta Airport reported a cumulative passenger growth of 6.9% from January to July 2015 to more than 2.5 million passengers in the first seven months of the year. Kosice Airport handled a total of 215,149 passengers, comprising a rise of 11.0% in the same period.
Results in detail
 

July 2015

Change in %

January-July  2015

Change in %

Passengers (total):

2,363,785

+6.7

12,820,415

+0.5

Local passengers:

1,637,910

+7.3

9,249,258

+2.8

Transfer passengers:

716,946

+5.5

3,510,442

-5.8

Maximum take-off weight




in tonnes:

796,583

+5.0

4,811,339

+3.0

Flight movements (arrivals & departures):

21,240

-0.6

131,220

-1.9

Air cargo and trucking in tonnes:

22,128

-1.8

152,151

-0.8
Contact:
Corporate Communications Flughafen Wien AG
Press Office:
Peter Kleemann, (+43-1-) 7007-23000,   
p.kleemann@viennaairport.com
Clemens Schleinzer, (+43-1-) 7007-22399,
c.schleinzer@viennaairport.com
Stefanie Tomanek, (+43-1-) 7007-26939,
s.tomanek@viennaairport.com
Investor Relations:
Judit Helenyi, (+43-1-)7007-23126,
j.helenyi@viennaairport.com
Mario Santi, (+43-1-) 7007-22826,
m.santi@viennaairport.com
www.viennaairport.com