COVID CARE PREMIUM SERVICES
The Covid Care Premium Service is the ideal offer for those who want a stress-free stay at the airport and the fastest way to the gate.
The last few weeks have changed the way we travel. At the airport everything is being done to make your stay as safe as possible. Throughout the terminal, protective masks are mandatory for passengers and staff, distance markings are posted at the boarding areas and hand disinfection stands have been set up. Vienna Airport is also carrying out increased cleaning activities throughout the entire site. Handrails, door handles and sanitary facilities are cleaned more frequently, and filters in ventilation systems are changed more often.
Nevertheless many passengers will have concerns about how travel is possible under current regulations and security measures. With our Covid Care Premium Service we take these worries off your hands. You save yourself any waiting time at check-in, baggage claim, security check or passport control. Our staff will take you to your departure gate and assist you with all your questions and concerns. Traveling could hardly be more comfortable and carefree.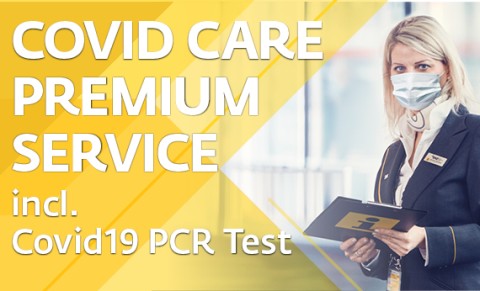 Price per person € 135.00
incl. applicable VAT.
Covid Care Premium Service + Corona PCR Test
This service package combines the Corona PCR test (necessary for a health certificate) with a particularly carefree stay at the airport.  The offer at a glance:
 
PCR test for one person

Support and express handling of all airport processes with an airport service employee

Covid Care Package including:

Reusable zipper which can also be used for the transport of permitted liquids in hand luggage

Mouth and nose protection mask

disposable gloves

100ml disinfectant

Information brochure incl. telephone contact for all Covid measures and services at Vienna Airport
Procedure for the departure service
Procedure for the arrival service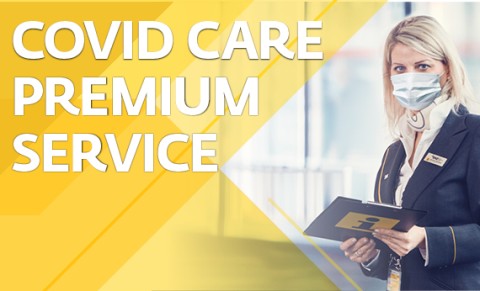 Price per person € 40.00
incl. 20% VAT.
Covid Care PREMIUM Service
This service package guarantees a particularly carefree stay at the airport.The offer at a glance:
Support and express handling of all airport processes with an airport service employee

Covid Care Package consisting of:

Reusable zipper which can also be used for the transport of permitted liquids in hand luggage

Mouth and nose protection mask

disposable gloves

100ml disinfectant

Information brochure incl. telephone contact for all Covid measures and services at Vienna Airport
Procedure for the departure service
Procedure for the arrival service
Procedure for the transfer service