Current information on flight operations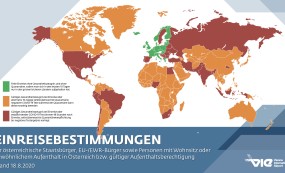 Since 19 March 2020 all handling activities at Vienna Airport have been temporarily concentrated in Terminal 3 because of the reduced number of flights, protective face masks must be worn throughout the terminal. Access from Car Park 3 to the pharmacy and Terminal 3 will remain possible. All operationally necessary and operational departments will continue to be manned and accessible around the clock. The entire site and terminal buildings will be monitored and controlled by security personnel.
INFORMATION ON ENTRY REQUIREMENTS
Simplified entry requirements from 31 countries
It is possible without restrictions for people to enter Austria from one of the following countries if they have their domicile or habitual place of residence in Austria or in one of these countries. In this regard, the person travelling to Austria must credibly show that he was not in any other country with the exception of Austria or one of the countries on the list. At present, they currently include the following countries: Australia, Belgium, Denmark, Germany, Estonia, Finland, France with the exception of the Île-de-France and Provence-Alpes-Cote regions d'Azur, Greece, Ireland, Iceland, Italy, Japan, Canada, Latvia, Liechtenstein, Lithuania, Luxembourg, Malta, Monaco, New Zealand, Netherlands, Norway, Poland, Portugal with the exception of the Lisbon and Norte regions, Republic of Korea, San Marino, Sweden, Switzerland, Slovakia, Slovenia, Spain - Canary Islands, Czech Republic with the exception of the region of Prague, Hungary, Uruguay, Vatican, United Kingdom, Cyprus. The COVID-19 situation in these countries was rated as being safe by the Austrian Federal Government.
COVID-19 test or 10-day quarantine when entering Austria from all other countries
In order to enter Austria from all other countries not on the above-mentioned list, they must either present a negative COVID-19 test (not older than 72 hours) or begin a ten-day quarantine period. A person who takes a COVID-19 test with negative results when entering Austria means the mandatory quarantine period is prematurely terminated. Passengers have the opportunity to take COVID-19 tests at Vienna Airport every day from 7 a.m. to 8 p.m. without the necessity of registering in advance.  
Passengers from the following COVID-19 risk areas cannot freely decide between a COVID-19 test or quarantine. In this case, negative COVID-19 test results must be presented when entering the country. This applies for travelling to Austria from: Albania, Andorra, Argentina, Bahrain, Bangladesh, Belarus, Bosnia and Herzegovina, Egypt, Brazil, Bulgaria, Chile, Costa Rica, Ecuador, France only the Île-de-France and Provence-Alpes-Cote d'Azur regions, India, Indonesia, Iran, Israel, Kosovo, Croatia, Kuwait, Maldives, Mexico, Moldova, Montenegro, Nigeria, Northern Macedonia, Pakistan, Peru, Philippines, Portugal only the regions Lisbon and Norte, Romania, Russian Federation, Senegal, Serbia, Spain Mainland and Balearic Islands, South Africa, Czech Republic only the region of Prague, Turkey, Ukraine, United States (USA) or the People's Republic of China - Hubei Province
People coming from these countries who are Austrian citizens and nationals of EU and EEA member states as well as people travelling from these countries whose domicile or habitual place of residence is in Austria or who possess a valid residence permit in Austria have the possibility to take a molecular-biological SARS-CoV-2 test within 48 hours after entering Austria. This means that this group of people is allowed to enter Austria without a COVID-19 test. These people entering Austria can take the PCR test on site when arriving at the airport. The test results will be conveyed to them electronically. However, in this case they will have to remain in quarantine until they receive the negative test results. Quarantine means self-monitored home quarantine or suitable accommodations. The affected individuals have to pay the costs for testing and accommodations themselves.    
Passengers can find all information on entry requirements
here
.
Entry regulations of foreign countries
Several countries have tightened entry regulations for travellers from Austria and in some cases have closed airports to international flights. More information on entry regulations and travel warnings can be found at the website of the  
Foreign Ministry
  (hotline +43 1 90115 4411). Austrians abroad are encouraged to register online.
Prior to departure, travelers to Greece must duly register on the website of the Greek authorities
https://travel.gov.gr/#/
and present the QR code received at check-in or boarding, as well as duly complete the Passenger Locator forms issued by the airline.
Coronavirus PCR Tests can now be carried out directly at vienna airport
Vienna Airport offers passengers the possibility to undergo 
molecular-biological COVID-19 testing (PCR test)
 directly on site at the airport after arriving in Austria. All informations can be found at 
www.viennaairport.com/pcrtest
.   
PREVENTIVE MEASURES
Vienna Airport works closely with the Austrian health authorities on an ongoing basis. Body temperature of all arriving passengers will be measured by health authorities at the airport. 
Check-in, boarding and information desks are equipped with protection, distance markings are placed on the boarding areas and hand disinfection stands are set up. Passengers will be informed about these measures on site via announcements and information monitors in the terminal. In case of bus boarding, the number of passengers per bus will be limited in order to ensure that a sufficient safety distance is maintained.
Vienna Airport is also carrying out increased cleaning activities throughout the airport. Handrails, door handles and sanitary facilities are cleaned more frequently, also filters in ventilation systems are changed more frequently. Protective masks are required throughout the terminal for passengers and employees. People with afflictions can contact employees of Vienna Airport at any time.
IMPORTANT NOTES 
For medical questions and symptoms, please call the health number 1450. For general questions about coronavirus, the hotline 0800 555 621 (from abroad +43 1 3860 555) is available. Further information on the coronavirus can be found on the homepage of the Ministry of Health or the AGES. Please note that this information is the current status. As it is not foreseeable how the situation will develop in the next days and weeks, changes may occur at short notice.