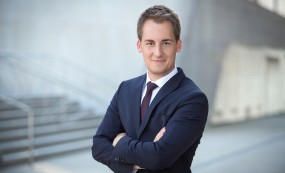 New Management Team: Christoph Schmidt to Join Michael Zach as a New Managing Director of VIP & General Aviation Services at Vienna Airport
There is a change in the top management of VIP & General Aviation Services at Vienna Airport. Effective 1 April 2020, Christoph Schmidt will serve as a Managing Director of Vienna Aircraft Handling GmbH (VAH), a fully owned subsidiary of the Vienna Airport operating company Flughafen Wien AG, together with Michael Zach. Mr. Schmidt has longstanding management experience and has made a name for himself, especially in the energy sector. Schmidt succeeds the previous managing director Joubin Pour, who will take on new professional challenges following eight years at Flughafen Wien AG.
"Christoph Schmidt brings many years of extensive management and marketing experience to the company, thus enriching the team at Vienna Aircraft Handling GmbH. In particular, the market for general aviation and VIP services encompasses many business areas, and our subsidiary Vienna Aircraft Handling GmbH offers optimal total solutions in this field - from hangar space for aircraft and ground handling to VIP services and conferencing. Our management duo of Christoph Schmidt and Michael Zach will provide fresh impetus here", explain the Julian Jäger and Günther Ofner, the two Members of the Management Board of Flughafen Wien AG.
"Our customers expect the highest standards of professionalism and service quality when it comes to general aviation and VIP services. I look forward to collaborating with Christoph Schmidt to further develop our solutions and products for our customers together with him", says Michael Zach, who has been Managing Director of Vienna Aircraft Handling GmbH since 2016.
"I very much look forward to this responsible task which I am honoured to take on during this particularly exciting and challenging time. A committed and professional team awaits me, and together we will continue to succeed in offering the highest quality VIP and general aviation services for the benefit of our customers and guests", emphasizes Christoph Schmidt, who has been serving as the new Managing Director of Vienna Aircraft Handling GmbH since 1 April 2020 alongside Michael Zach.
Christoph Schmidt: experienced managing director from the energy sector
Christoph Schmidt (32) studied business administration and business law in Vienna, at the St. Galler Business School in Switzerland as well as at the renowned Harvard Business University in the USA. During his studies he already began work as an Assistant to the Executive Board of Energie Burgenland AG. Shortly afterwards, he was promoted to the position of Commercial Director of Energie Burgenland Green Power GmbH before he built up the operations of the energy supplier switch as its Sole Managing Director. Two years later he accepted a position in the Austrian Federal Chancellery as the Deputy Head of Cabinet for the former Federal Minister for the EU, Arts, Culture and Media. In addition, Christoph Schmidt has been a Member of the Supervisory Board of Wiener Zeitung GmbH since 2018.
VIP services and general aviation at Vienna Airport
Vienna Aircraft Handling GmbH operates the VIP Terminal and General Aviation Center and has been a fixed-base operator at Vienna Airport for more than 20 years. The General Aviation Center at Vienna Airport stands out thanks to its direct proximity to Vienna (30 minutes driving from and to the city centre), its 24/7 operations and outstanding infrastructure. The offering ranges from passenger lounges, own crew rest areas, a restaurant and sufficient parking facilities directly next to the terminal building to individual, tailor-made service solutions. The VIP services in an exclusive atmosphere are available to provide first-class support and care before departure or after arrival to all passengers of scheduled flights, regardless of their particular airline or booking class.
www.viennaaircrafthandling.com
www.viennaairport.com/vip
Photos:
Photo 1: Christoph Schmidt
Photo credit: Jakob Glaser
Contact:
Press Office of Flughafen Wien AG                                                                          
Peter Kleemann, Company Spokesman                       
Tel.: (+43-1-) 7007-23000                                                        
E-mail:
p.kleemann@viennaairport.com
Website:
www.viennaairport.com
18/20                                                   KP/DW                                               20. April 2020