FWAG (group) facts & figures
Flughafen Wien AG is one of the few airports in Europe quoted on the stock exchange. As a developer, builder and operator of Vienna Airport it offers the full range of associated services:
airport operations

ground operations

security services

infrastructure provider

commercial activities
Thanks to its geographical position in the centre of Europe, it is one of the most important hubs for the growing number of destinations in central and eastern Europe.
Vienna Airport handled 24,392,805 passengers in 2017, comprising a rise of 4.5% from the previous year. In particular, long-haul routes had a positive impact on the airport's performance, as well as new flight connections and frequency increases on the part of the airlines. 
Traffic Data 2018:
| | | |
| --- | --- | --- |
| Passengers | 27.037.292 | +10,8 |
| Local passengers | 20.263.501 | +13,6 |
| Transfer passengers | 6.679.300 | +3,7 |
| Flight movements | 241.004 | +7,3 |
| MTOW | 295.427 | +2,6 |
For a more detailed version please click here
ownership structure Flughafen Wien AG
Flughafen Wien AG, one of the few quoted airport operators in Europe, was privatised in 1992.
Shareholders are:
Province of Lower Austria: 20.0%

City of Vienna: 20.0%

Private employee participation foundation: 10.0%

Airports Group Europe S.à r.l.: 39,20%

Freefloat: 10,20%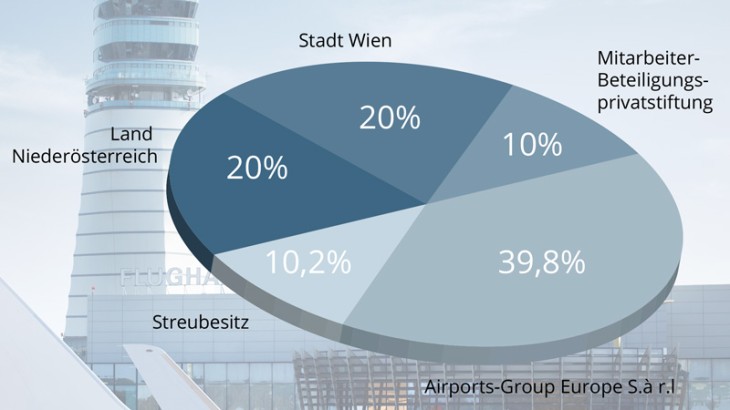 Management board of Flughafen Wien AG
Mag. Julian Jäger
Board member
Member of the board of Flughafen Wien AG since September 2011.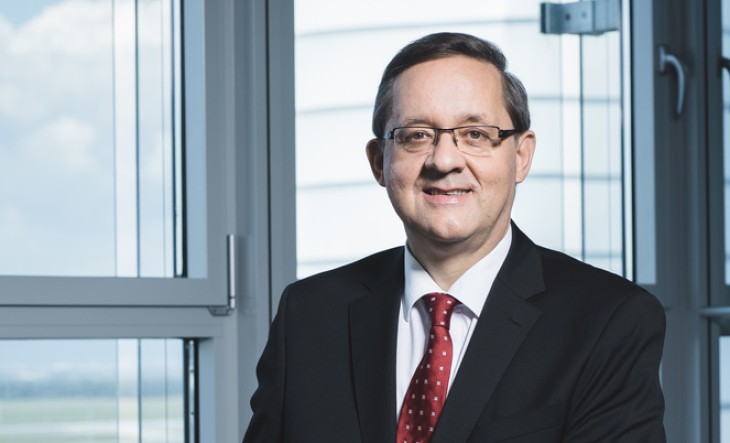 Dr. Günther Ofner
Board member
Member of the board of Flughafen Wien AG since September 2011.
ORGANISATION CHART
The complete structure of FWAG can be seen in the organisation chart.
Other traffic data and holdings and details of the corporate structure can be seen in the latest annual report.
Supervisory Board:
Bettina Glatz-Kremsner

Ewald Kirschner

Karin Rest

Werner Kerschl

Lars Bespolka

Wolfgang Ruttenstorfer

Robert Lasshofer

Herbert Paierl

Gerhard Starsich

Susanne Höllinger 
Delegated by the Works Committee
Thomas Schäffer

Herbert Frank

Thomas Faulhuber

Heinz Strauby

David John
Vienna Airport infrastructure:
runway 11/29 - 3,500 metres long, 45 metres wide, category IIIb (direction 29)

runway 16/34 - 3,600 metres long, 45 metres wide, category IIIb (direction 16)

99 parking positions including 8 docking positions on East Pier, 12 on West Pier and up to 17 docking positions on terminal extension Terminal 3

about 61 shops and 31 restaurants in an area of 19,000 m²
Additional capacities (landside and airside):
office park (near terminals)

air cargo centre

VIP & business centre

air traffic control tower

increased parking

Terminal 3 - in operation since 05 June 2012

railway station for main-line trains

Moxy Hotel
Flughafen Wien - since 1954