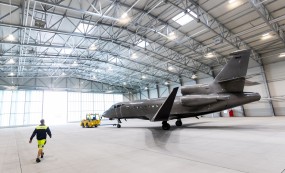 First of Two New Hangars Put into Operation:
Vienna Aircraft Handling GmbH (VAH) Will Offer 16,000 m² of Hangar Space in Hangars 8 and 9 as of Autumn 2019
Flughafen Wien AG is building two new hangars for general aviation at Vienna Airport by the autumn of 2019 on behalf of its subsidiary Vienna Aircraft Handling GmbH. The first of the two hangars (Hangar 8) has already been constructed, whereas the second hangar (Hangar 9) is scheduled to be put into operation in the autumn of 2019. On balance, VAH will then boast four large hangars with a total area of about 16,000 square metres. As a consequence, the general aviation site at Vienna Airport will rank among the top ten amongst the business aviation airports in Europe. Hangar 8 was officially opened today, Wednesday, July 17, 2019, by Michael Zach and Joubin Pour, the Managing Directors of Vienna Aircraft Handling.  
The new hangars will be 55 x 65 metres in size. The height of the entrance will be 10 meters. Hangars 8 and 9 will provide sufficient room for aircraft ranging up until the business jet Bombardier Global.
General Aviation at Vienna Airport
The General Aviation Center of VAH at Vienna Airport stands out thanks to its direct proximity to Vienna (30 minutes driving from and to the city centre), its 24/7 operations and outstanding infrastructure. The offering ranges from passenger lounges, crew rest areas, a restaurant and sufficient parking facilities directly next to the terminal building to individual, tailor-made service solutions. The company VAH operates the General Aviation Center and has been a fixed-base operator at Vienna Airport for more than 20 years.
Parties interested in hangar space offered by Vienna Aircraft Handling GmbH will find more information at
www.viennaaircrafthandling.com/general_aviation/hangarierung
or can call +43-1-7007-22403.
Please address inquiries to:
Press Office of Flughafen Wien AG
Peter Kleemann, Company Spokesman
Tel.: (+43-1-) 7007-23000
E-mail:
p.kleemann@viennaairport.com
Website:
www.viennaairport.com
Facebook:  
www.facebook.com/flughafen
wien
Twitter: PeterKleemannVIE