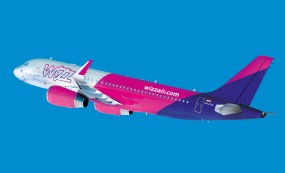 WIZZ AIR ANNOUNCES MAJOR EXPANSION OF
VIENNA OPERATIONS
FIVE BASED AIRCRAFT BY MARCH 2019
AN INVESTMENT OF $570 MILLION*
200 NEW DIRECT JOBS
A NETWORK OF 27 ROUTES
OVER 2 MILLION SEATS ON SALE IN 2019
Vienna, 2 March 2018:
Wizz Air, one of Europe's fastest growing airlines and the largest low-cost carriers in Central and Eastern Europe, today announced major expansion of its Vienna operations. Following the base establishment with three aircraft this year, WIZZ will deploy two additional Airbus A321 at Vienna Airport by March 2019, growing its annual capacity to over 2 million seats on sale.
The additional aircraft will allow WIZZ to further diversify and expand its Vienna network, while bringing truly affordable air travel paired with excellent service on board. WIZZ's offer from Austria will include nine new routes from Vienna to Nice in France, Reykjavik in Iceland, Catania and Milan in Italy, Lisbon in Portugal, Madrid in Spain, Malmo and Stockholm Skavsta in Sweden, and Kharkiv in Ukraine. The newest WIZZ services will commence in February and March 2019. Seats are already on sale starting from just EUR 19.99** on
wizzair.com
.
The base establishment and the expansion of the operations represent a total investment of over $570 million*, creating more than 200 direct jobs with Wizz Air. The airline's extended operations will also contribute to the local economy, supporting jobs in the aviation, transportation, hospitality and tourism industries.
Wizz Air's passengers can easily book now their low fare tickets from Vienna to 27 destinations across 21 European countries on
wizzair.com
, a website with a responsive layout, or via the free mobile app, designed for tech-savvy mobile users, who are always on the go and need the fastest access.
WIZZ AIR'S NEW ROUTES FROM VIENNA
Destination

Days

Starts

Fares

From

*

*

Catania

Tuesday, Thursday, Saturday

23 February 2019

29.99€

Kharkiv

Wednesday, Sunday




(Tuesday, Thursday, Saturday from 23 March 2019)

25 November 2018

29.99€

Lisbon

Monday, Wednesday, Friday, Sunday

22 February 2019

39.99€

Madrid

Tuesday, Thursday, Saturday




(daily from 22 March 2019)

23 February 2019

29.99€

Malmo

Monday, Wednesday, Friday, Sunday

22 March 2019

19.99€

Milan Malpensa

Daily

22 February 2019

19.99€

Nice

Monday, Wednesday, Friday, Sunday

22 February 2019

29.99€

Reykjavik

Tuesday, Thursday, Saturday

23 March 2019

49.99€

Stockholm Skavsta

Monday, Wednesday, Friday, Sunday

22 March 2019

19.99€
George Michalopoulos, Chief Commercial Officer at Wizz Air, said
: 
"Today's announcement once again underlines our strong commitment to the Vienna market and Austria as a whole. After the opening of our Vienna base this June, in just nine months we'll expand our operations to five based aircraft with a local team with more than 200 direct employees, while growing our low-fare network to 27 routes. Offering nearly half million seats on sale in 2018 and over 2 million in 2019 we are creating new opportunities for Austrian customers to visit some of the most beautiful cities and regions in Europe. We are
sure that our excellent value service will make Wizz Air the airline of choice for Austrian travelers as well drive inbound tourism."
Julian Jäger, Joint CEO and COO of Vienna Airport,, explains:
"The fact that Wizz Air is already expanding its operations at Vienna Airport and will increase the number of aircraft stationed at its Vienna base by two to a total of five underlines the competitiveness of Vienna Airport as a competitive aviation hub and high-performance gateway. Thanks to the expanded base as well as the additional flight connections, Wizz Air is provided added growth impetus to Vienna Airport and passengers will be offered an even broader range of travel options when flying out of Vienna."
About Wizz Air
Wizz Air is the largest low-cost airline in Central and Eastern Europe, operates a fleet of 89 Airbus A320 and Airbus A321 aircraft, and offers more than 600 routes from 28 bases, connecting 145 destinations across 44 countries. At Wizz Air, a team of approximately 3,500 aviation professionals delivers superior service and very low ticket prices making Wizz Air the preferred choice of 28.2
million passengers in 2017
. Wizz Air is listed on the London Stock Exchange under the ticker WIZZ and is included in the FTSE 250 and FTSE All-Share Indices. Wizz Air is registered under the International Air Transport Association (IATA), Operational Safety Audit (IOSA), the global benchmark in airline safety recognition. The company was recently named 2017 -
European Airline of the Year
by Aviation 100, a renown annual publication that recognizes the year's most outstanding performers in the aerospace industry.
*
http://www.airbus.com/newsroom/press-releases/en/2017/01/2017-price-adjustment-for-airbus-modern-fuel-efficient-aircraft.html
**one-way, including taxes and non-optional charges
For more information:
Gabor Vasarhelyi, Wizz Air
+36 1 777 9412;
communications@wizzair.com
Follow us on Twitter: @wizzair
Download PDF Deutsch