Press releases & news
Vienna Airport puts new charter bus parking lot into operation
|

Press releases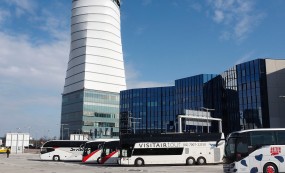 Vienna Airport puts new charter bus parking lot into operation
Effective immediately, charter buses will no longer park in Car Park 4 but directly in front of the terminal building. Today, April 15, 2015, Günther Ofner, Member of the Management Board of Flughafen Wien AG, officially presented the new charter bus parking lot at Vienna Airport to customers and business partners.
"This new parking lot provides more service quality to our passengers and rounds off our offering of publicly accessibility at the airport location. With the new facility we have finally realized a long-planned project", says a pleased Günther Ofner, Member of the Management Board of Flughafen Wien AG, on the occasion of the car park opening.
Charter bus parking lot offers space for 28 buses
The new charter bus parking lot with an area of about 4,500 m² has sufficient space for 28 vehicles in different bus categories and vehicle dimensions. The arrival hall and the departure levels in Terminal 1 and Terminal 3 can be quickly reached via short walks. The new parking lot can thus be used by charter bus companies to drop off departing passengers as well as to pick up travelers arriving in Vienna.   
This facility was made possible by completion of construction work on the long-distance railway station which was put into operation in December 2014. The construction site could subsequently be adapted to serve as the new parking area for charter buses.
Please address inquiries to the Press Office of Flughafen Wien AG:
Peter Kleemann (+43-1-) 7007-23000
Clemens Schleinzer (+43-1-) 7007-22399
Stefanie Tomanek (+43-1-) 7007-26939
p.kleemann@viennaairport.com
c.schleinzer@viennaairport.com
s.tomanek@viennaairport.com
Homepage:
www.viennaairport.com