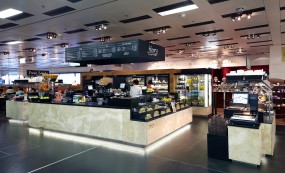 DO & CO selected to Operate New Food Court at Vienna Airport
Innovative culinary offering of DO & CO comprising an area of about 800 m² at the newly designed C-Gates
At present the Pier West area at Vienna Airport is being comprehensively modernized. Subsequently passengers can expect a new and extensive gastronomical experience.  DO & CO will operate a Food Court featuring a broad culinary offering in the C Gates area. Comprising a floor space of about 800 m², a high-quality culinary offering awaits passengers, featuring such brands as Demel, Henry, an American Diner and a new Onyx Bar. 
"The modernization of the Pier West is a key strategic project in our service strategy, and passengers will experience a completely new quality of travelling in this terminal area following completion of the renovation work. Particular importance will be attached to cuisine, and we are very pleased to have attracted DO & CO as our partner here", says a satisfied Julian Jäger, Member of the Management Board of Flughafen Wien AG about the new cooperation.
"We will strive very much to offer a new and quality-oriented range of restaurants featuring a wide selection of Austrian and international specialties. We look forward to a very good partnership with Vienna Airport. Together we want to set new quality benchmarks in airport gastronomy", states Attila Dogudan.
A large selection & "the very best from Austria and the whole world" – "Made by DO & CO" at Vienna Airport
Passengers will experience an extensive and innovative culinary offering on a floor space of about 800 m² in typical DO & CO quality. 
DEMEL
offers traditional Vienna coffee house culture of the highest quality, with a wide-ranging offering of coffee and tea, homemade pastries from the tradition of the Austrian Monarchy, innovative small snacks for in-between meals and naturally specialties from Viennese cuisine.
In
HENRY
guests at Vienna Airport will be able to sit down and enjoy freshly squeezed juices, tapas and antipasti, cold and warm dishes from all over the world and many homemade desserts or take these delicacies on the plane with them.
A completely new offering in the gastronomical portfolio at the airport is an
American Diner
, with a broad range of breakfast dishes, freshly made salads, American sandwiches and naturally many different varieties of traditional burgers.
Another highlight is a separate "Children's Restaurant" boasting an enjoyable culinary offering tailored to the wishes of the airport's young guests.
Moreover, the first branch of the Viennese
DO & CO
ONYX BAR
will be set up at Vienna Airport, focusing on Austrian wines, beer and cocktails. .
Accordingly, all passengers at the newly designed C-Gates will have a unique and very extensive culinary offering at their disposal starting at the beginning of November. 
Modernization of the terminal area in full swing
The modernization of the terminal area Pier West and the C-Gates area is still in full swing. The floor, walls and ceilings should be renovated and new furnishings installed by the end of 2014. Following the already opened Terminal 3, the modernized Terminal 1 and the newly structured Plaza, the Pier West terminal area will also be able to offer a new and modern ambience to passengers. The catering area and gastronomical facilities will be set up at the same time. The opening of the new restaurants is planned for the beginning of November 2014.
DO & CO at Vienna Airport
Since Terminal 3 was put into operation, DO & CO has already been represented at Vienna Airport, providing gastronomical services. At the G-Gates the company has already been catering to the needs of travelers with the brands Demel and Henry, offering them high quality delicacies. Thanks to the new cooperation, DO & CO now operates restaurants on a catering floor space of about 1,100 m² at Vienna Airport.
Please address inquiries to the Press Office of
Flughafen Wien AG
Peter Kleemann (+43-1-) 7007-23000
p.kleemann@viennaairport.com
www.viennaairport.com
Press Office of DO & CO
Petra Gold (+43-1-) 74000 1158
petra.gold@doco.com
www.doco.com