Press releases & news
Air Algérie new at Vienna Airport: start of direct flights to Algiers from Vienna
|

Press releases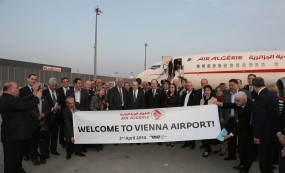 Air Algérie new at Vienna Airport: start of direct flights to Algiers from Vienna
Yesterday, 2 April 2014, marked the start of direct flights to Algiers from Vienna Airport: Air Algérie now offers two flights per week from Vienna to the Algerian capital. This new connection was inaugurated yesterday by His Excellency Mohamed Benhocine, the Ambassador of the People's Democratic of Algeria, Mohamed Salah Boultif, CEO of Air Algérie, and Julian Jäger, member of the Management Board of Flughafen Wien AG.
"We are pleased to add a new destination in an important economic area to our portfolio. Algeria is the largest country in North Africa, and this new direct connection by Air Algérie will strengthen Vienna Airport's role as a gateway to this region," added Julian Jäger, member of the Management Board of Flughafen Wien AG.
Two weekly connections from Algiers to Vienna
Every week on Wednesday and Saturday, a Boeing 737 from Algiers will arrive in Vienna at 6.35 pm and take off for the return flight at 7.55 pm. Algiers is the capital city and, as a traffic hub and cultural and economic centre, the largest city in Algeria with nearly 2.2 million residents. The old city Kasbah was designated as a World Cultural Heritage site by the UNESCO in 1992.
Air Algérie was founded in 1947 and offers connections to destinations in Algeria and North Africa as well as many international cities. The latest flight plan includes a total of 46 destinations throughout the world. Air Algérie currently operates a fleet of 43 aircraft. For additional information and bookings, see
www.airalgerie.dz
.
Flughafen Wien AG Press Office
Peter Kleemann (+43-1-)7007-23000,
p.kleemann@viennaairport.com
Clemens Schleinzer (+43-1-) 7007-22399,
c.schleinzer@viennaairport.com
Stefanie Tomanek (+43-1-) 7007-26939,
s.tomanek@viennaairport.com