Ascertain if possible before setting off for the airport which check-in the person you are bringing needs to go to. The Check-in Finder will help you in this regard.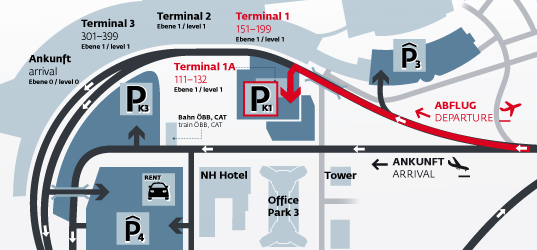 Coordinates N 48° 07' 18'', E 16° 33' 39''
For Terminal 3
Multi-storey car park 4 (€4.50/hour) is ideal for bringing passengers to Terminal 3. The entrance is on the left opposite Terminal 3.
There are lifts in multi-storey car park 4 to take you to level 3 and from there via a bridge to Terminal 3. In bad weather there is a covered passenger tunnel via level -1.
Keep your ticket
You will be issued a ticket at the entrance barrier to the car park. Please keep this in a safe place until you leave. The prices for use of the car parks can be found in our car park price list. Payment is made at the machines in the car parks, at the ticket desk in multi-storey car park 4 (open 24 hours a day) or directly at the exit barrier by credit card (American Express, Diners Club, MasterCard, Visa), Austrian debit card (Bankomat) or parking card.